Welcome to the Rowenta store at KitchenGoods.com. This page features the most popular Rowenta and related kitchen products at discount prices! 49 Rowenta items are available to buy as of 12-5-2013. Find more information, reviews, photos, and product descriptions by clicking on the picture of any housewares or kitchen product.

If you have any questions on any of our Kitchen Goods or related products
please contact us at (734) 971-1210 Monday-Friday 9-5p.m. EST.



---

Rowenta Electric Can Opener and Built In Knife Sharpener BEST IN THE WORLD (220volt WILL NOT WORK IN THE USA)

Your Price: $90.99





Rowenta DW8080 Pro Master MicroSteam Steam Iron 1700 Watts

Your Price: $89.99





Rowenta DW5080 Focus Steam Iron 1700W, 400 Holes, 3 Way Off

Your Price: $79.99





Rowenta DW5090 Focus Sewer Quilters NO Auto Off Steam Iron

Your Price: $69.99





Rowenta DW9055 Master Stainless Steel Soleplate Steam Iron Blue white

Your Price: $59.99





Rowenta DR5020 DUAL VOLTAGE ProSteam Handheld Steam N Press Steam Garment SteamBrush DR-5020 SteamPump VariableControl FabricBrush LintPad...

Your Price: $49.99





Rowenta DW2070 Effective Iron White blue

Your Price: $49.99





Rowenta DX-1900 (DW2090) Steam Iron, DX1900 CORD REEL Power Glide, 12""L, 1500W, AIR GLIDE S.S. Soleplate, AntiDrip AutoOff - FREE Spray...

Your Price: $49.99





Rowenta DW2090 Effective Comfort CORD REEL Steam Iron, 1500W

Your Price: $49.99





Rowenta IS1430 Pro Compact Garment Steamer

Your Price: $39.99





Rowenta DW2070 Effective Comfort Steam Iron, 300 Holes 1600W

Your Price: $39.99





Rowenta DW2091 Effective Comfort Steam Iron with Auto Retracting Cord Reel (same as DW2070, and DW2090)

Your Price: $39.99





Rowenta DR6015 UltraSteam Handheld Steam Brush (DR5015 5020)

Your Price: $39.95





Rowenta DA1560 DUAL VOLT First Class Travel Steam & Dry Iron

Your Price: $29.99





Golden Hands GH278 Aramid Heat Resistent Ironing Board Cover Replacement, Fits Rowenta Ironing Boards IB6100 IB6200 18x49"" Inches, No...

Your Price: $29.99





Conair GS4 Compact Garment Steamer, 1200 Watt, Auto Off, 6 Minutes Heat Up, 20 Minutes Steam, 6' Cord, Carry Handle, Door Hook (GS33R,...

Your Price: $29.99





Rowenta Precision Valet Commercial Full-Size Garment Steamer with Retractable Cord and Variable Steam, Grey Purple, Refurbished

Your Price: $29.00





Rowenta DR5015 UltraSteam Handheld Fabric Garment Steamer Steam Brush 110V Continuous Pump, VarSteam, ClearTank, Pad Brush Removes Lint...

Your Price: $24.99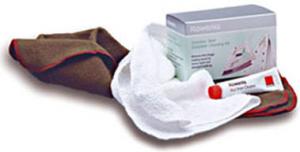 Rowenta ZD100 Stainless Steel Iron Soleplate Cleaner Kit
Your Price: $14.99

NOTICE: All product prices, availability, and specifications are subject to verification by their respective retailers.
Copyright © 2013 Dominant Systems Corporation, All Rights Reserved
3850 Varsity Drive
Ann Arbor, MI 48108

info@kitchengoods.com Privacy Policy